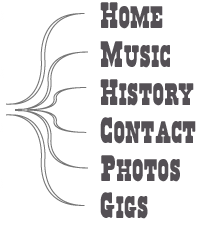 JACKSON PIKE SKIFFLERS THROUGH THE YEARS,
1963-2004
(In approximate chronological order.)
* = current members
Will Tressler *
Bob Chamberlain
Barbara Chamberlain
Trudy Chamberlain
Bob Berry
Jeanne Berry
Artie Barron
Holly Sherwood
Mike Bresler
Bud Morrisroe
Don Biehn
Bob Reed
Judy Stonier
Dallas Cline
Katie Tressler*
David McCann *
Ted Collins
Roger Whitcomb*
Dave Snell
Colin Healy
Myra.Healy
Bob Keedy
Bob Harrington
Frank Harrington
Don Rice
Earl Capron
Gary Wikfors
Fran Hendrickson
Pat Wexelblat
Tom Reilly
Jim Sirch
Jeff Kooris
Sally Tressler
Dan Tressler*
Greg Hernandez
Tom Lasko
Dave Auerbach
Rick Petreycik
Bob Bull
Dave Hanson
Damien Connolly


Will Tressler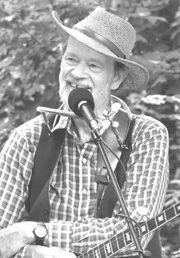 Photo : Ted Collins
2001



Well-known for their performances for over forty years, The Jackson Pike Skifflers specialize in old-time music, primarily from the nineteenth and early twentieth centuries. Their repertoire includes traditional rural and urban vernacular music, early country music, minstrel and vaudeville songs ,street ballads, Gospel songs, country dance tunes, railroad songs, mountain music and more, played on fiddle, banjo, mandolin, guitar, autoharp, bass, melodeon, washboard and a variety of other instruments. The nostalgic but livley quality of their music has made them very popular with audiences of all ages.

The Skifflers have performed at leading traditional music festivals, and for many years participated in the Lincoln Center Out-of-Doors summer concert series. In Connecticut, the Skifflers regularly liven up many country fairs, festivals, concerts, country dances, historical commemorations and private parties. They have also made two recordings featuring a widely varied selection of some of their audiences' favorites.

Organized by Will Tressler of Easton, who is still the group's leader, the Skifflers now include Katie Tressler, and Dan Tressler of Easton, David McCann of Monroe, Roger Whitcomb of New Fairfield, and Dan Carlucci of Fairfield. Tom Reilly of Norwalk, David Auerbach of Redding and Jim Sirch of Hamden also join the group for special events.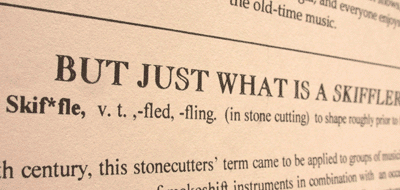 Just what is a "Skiffler"? Back in the early twentieth century, someone applied a stonecutters' term for "roughing out" to itinerant street bands. These "skiffle bands" improvised on popular tunes of the day, or made up their own, using mostly makeshift instruments. Although The Jackson Pike Skifflers style has become more polished with time, the term they adopted to describe their original music has stayed with them.


NEWS ARTICLE

" THE JACKSON PIKE SKIFFLERS"
Discover "antique music"
"The Jackson Pike Skifflers, longtime Trumbull Day favorites, will perform their unique blend of antique music on the Main Stage at 4:00 p.m.
The Skifflers' repertoire comes from two hundred years of American tradition, when people made music for themselves before radio, television and electronic devices. The history and spirit that lies within this music is something the Skifflers feel should be lived and enjoyed, instead of gathering dust in an archive.
The group derived its name from the Jackson Pike, the old name for Sport Hill Road in Easton, where band founders Will and Katie Tressler lived at the time. Long ago, "skiffle" bands were itineret groups of musicians who played and sang ragtime, country tunes, music hall and jazz melodies with any instruments available, such as washtubs, washboards, jugs, harmonicas, banjos. fiddles and guitars...
For more than 25years, the Skifflers have performed on radio and television and in concerts all over the country,
including at Lincoln Center in New York City. Their instruments range from guitar, cello, bass and fiddle to more unusual ones like gut bucket, penny whistle, squeeze box, autoharp, dulcimer and cane.
Catch the Jackson Pike Skifflers at 4:00 and find out how to play a cane!"
Generations Of Family Fun


QUOTED FROM JUNE 1991 TRUMBULL DAY SUPPLEMENT